Round 4 - Now that's what we're talking about!
A great field for round 4, perfect weather and fantastic racing.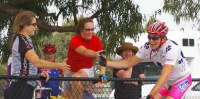 Mason Austen captures the mood of the day
This was the round that we'd been waiting for. A solid field of 17 riders with a good spread across the grades meant we had a chance to run three grades for the first time, ensuring that we'd have close and competitive racing, and we got that. With a moderate southerly wind blowing to make the back straight a challenge riders took on the flying 200s, with Jeremy Mclay throwing down the gauntlet early with another blistering time for this track, but Eddie Wilson wasn't far off his time, and with Stuart Vaughan and Jamie Goddard very close as well we knew we had a quality field for A grade. Shane Millar making his first appearance at a match sprint rode a pretty fast time also, as did Paul Kennedy, all A graders were within 1.3 seconds. A number of riders were here for their first match sprints and the next block of fast times were set by John Hunt and Nathan Frazer, with five riders being allocated B grade for the day, less than half a second separating their times. C grade also, had some very close qualifying times, with Mason Austen at his first attempt setting the quickest time, very closely followed by Nicole Holt and Cam Woolcock. In the end the 6 C grader's F200 times were broken up by less than 1.5 seconds.
Three rounds were ridden by each grade, with one lucky B grade rider per round getting a bye and thus 5 points for free. A grade was the first grade to race and it started off with big Jeremy Mclay matched up against Eddie Wilson, fresh from his win at the Wangaratta wheelrace a few weeks ago. Eddie took this in a very close and fast race, the last 200 passing in 12:10 (59.5km/h). This was to set the scene for the rest of the day's racing. Jamie Goddard and Stuart Vaughan had some great tussles, with Stu keen to even the score after Jamie's numerous sprint wins at recent club races, and Jamie is never one to not give a 100% effort. Shane 'The Llama' Miller and Paul Kennedy were a little out gunned today but both rode with class and will be back for another go for round 5.
No rider established a clear dominance of their grade during the heats, with Stu Vaughan surprising Eddie Wilson as a notable upset - The V-Train is the current masters pursuit world champion but we thought he'd be unable to match it with the sprint specialists, but he proved his versatility and took a win from Fast Eddie.

In B grade John Hunt rode with great skill and cunning, but Adam King from Carnegie stole a win from him, and a similar story with C grade, with only one rider from all grades coming through to the finals undefeated. Cam Woolcock, in his first match sprint races was unbeaten through the heats in C grade. Leah Patterson rode well but suffered from a heavy training session in the morning that clearly took a lot out of her legs but the two other women in C grade took it to the boys and ended up racing eachother for the final.
As a result of the very close racing during the heats the finals were determined by a countback to flying 200 times, with only the one rider (Cam Woolcock) having his place in a final determined by points accumulated.
In C grade Nicole Holt's experience and raw power was enough to give her 3rd place after winning her final against first timer Megan Marsh, with Cam not able to continue his unbeaten run, he had to settle for 2nd place after Mason Austen was just a bit too quick in the end
B grade saw two more first timers ride off for 3rd, with Neil Robinson just holding off a desperate challenge by Dean Gagnon (Gags) to win by less than half a wheel, and John Hunt proving too smart for Nathan Frazer.
Finishing off with A grade, the race for third was between The V Train and Jamie Goddard. Stu managed to win this despite Jamie's never-say-die surges as he kicked again and again, with Stu just rolling over the top to win at the ned by less than a bike length. The A grade final for 1st was between big Jeremy and Fast Eddie in a rematch of their first round. After a lap Jeremy kicked hard and opened up a big gap on Ed, making the race a two lap pursuit, Ed had the horsepower to bridge up with a lap to go and they were side by side with 150m to go, before Ed managed to get over Jeremy around the final bend to end up with a win by a length, with the crowd thrilled by the closeness and drama of the race.

The crowd was thrilled, the free BBQ enjoyed by all, and Eddie took the daily aggregate prize for the second time, having himself a new set of Bontrager Race-Lite tyres for his troubles to go with his prizemoney.
Round 5 is on Sunday the 2nd of March, and it promises to be a cracker.

Complete results are
here
.
Photos from the day are
here
.