Round 5 - living up to expectations
Round 5 built on the success of round 4, more riders, more close finishes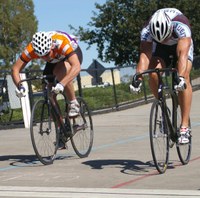 Eddie Wilson and Jeremy Mclay neck and neck
Round 5 of the Trek Summer Sprint Series was great. Round 4 saw a record field of 17 riders, and with a few of them unable to come to round 5 the organisers were anxious, but our fears were unfounded, with a new record 18 riders attending, with a good spread of rider abilities ensuring that we'd have three grades and quality racing through the grades.
The weather was fine and warm, with a swirling breeze to make flying 200 times difficult to compare, but at the end of qualifying we had three clear gaps in F200 times to split up riders into A, B and C grades.
Splitting by the obvious breaks in times, we had 4 riders in A grade, 6 in B and 8 in D, with almost everyone withing 0.5 of a second per grade. Would we get good racing? Yes.
A number of riders had their first go at match sprinting, including Karen Wiggins (who shaved almost a full second off her previous best F200 time from the 2006-2007 Blackburn club championships) and Richard Hurley, who surprised everyone by qualifying clearly for A grade. We had a Swiss visitor, Felix Furrer, who raced A grade also, and our regulars were mostly present. We missed Stu 'V-Train' Vaughan and Leah Patterson, both with other commitments for the day and we hope to see them at the last round. Mason Austen was back for more after his win last time in C grade, this time half a second faster in qualifying and making his way into B grade.

The racing... Big Jeremy Mclay and Fast Eddie Wilson were dominant in A grade, with Felix Furrer able to gap and keep away from Richard Hurley in their encounter, making the A grade final between Eddie and Jeremy, with Richard and Felix battling it out for the last place on the podium. Both big men going faster in their heats than they'd qualified, despite clearly backing off once they were sure of their wins.
B and C grades were open affairs, with high numbers our partial round robin was put to the test and not everyone raced everyone, but the racing was always close. Mick Thomas rued his late arrival and short warmup, his qualifying time meaning on countback he missed the final for B grade despite having the fastest final 200m during the heats. Neil Robinson was the fastest B grade qualifier and deserving winner of B grade, undefeated through the rounds, with Adam King taking 3rd in the end after a tussle with Mick Thomas, and Nathan Frazer unable to match Neil's pace in their final for first and second. Cam Woolcock was a little off his normal pace today, but was able to come over Mason Austen in their matchup. Mason finding B grade a lot harder than he had C grade a month ago, but he pressed and pressured each rider he raced and will be a force to reckon with in the next round.

In C grade we had 8 riders, Dino Apolito qualifying fastest (and almost being in B grade for his troubles), in previous rounds Dino and Rob Monteath have had some great matchups, but today Dino had the measure of everyone, remarking afterwards that sprinting is as much about head as legs, and his determination to win meant he managed to claw back a big gap that Nicole Holt opened on him in the C grade final and just pip her at the line, Dino eventually undefeated in C grade, but every race he rode being dramatically close. Nicole Holt also won all her heats but wasn't quite able to hold Dino in their final, Nicole proving again that the fastest F200 time isn't going to tell who wins each round.

Megan March had a good day's racing also, and Ben Schofield, backing up from Saturday's Blackburn club races and a Sunday morning Eastern vs Southern vets road race rode well and enjoyed the experience.
In the final race of the day, big Jeremy Mclay was to take on Fast Eddie for the spoils of A grade, in a rematch of their previous round. Both riders had raced on the previous evening at Vodafone, and were within a 10th of a second in qualifying (swirling winds making times hard to compare), and it had been a long day of racing. Who would prevail? Eddie lead it out for their three lap final, with no surprises in the first lap, but as they rounded the southern corner with 2 to go Jeremy jumped hard and got in front of Eddie with one to come, with 200m to go Eddie pulled out of Jeremy's draft to come over the top just as Jeremy kicked again and it was side by side around the final bend, Eddie's desperate last effort not quite enough to come over big Jeremy, Jeremy taking the win by half a wheel. This evens the score between the two big men. What will happen next time?
Jeremy also won the daily aggregate prize, a set of Bontrager race-lite tyres. All three winners of each grade were tied on points so the flying 200 countback was applied, with the final adjusted times giving Jeremy the tyres by 0.2 seconds.
Full results are here
Photos are here
The last round, round 6, is on Sunday April the 6th after which there will be a presentation of the season aggregate prize (a Trek T1 track frame) and a celebratory free BBQ and party for all competitors and volunteers to come to.